Down and feathers: a precious gift
Down and feathers are a precious gift from nature. Eventhough this material looks delicate it is in fact very durable. We collect down and feathers filled post consumer goods all over Europe and we extract the filling contents. Down and feathers are reprocessed, cleaned and sterilized so that they can be re-used as filling material in new bedding products or garments.
Our target: zero waste
Next to the recycling of down and feathers, we do our best to regenerate the other components of the used products collected. For example, the fabric shells are prepared to be recycled into industrial insulation. Even our own down and feathers waste is changed into an efficient organic fertilizer.
Advantages of Re:down®
Same performances as virgin down. Same thermal function and same durability.
Available in a range a qualities from 100% feathers up to 90/10 EU standard with 700 fillpower.
Washed and sterilized to "super clean" and hypoallergenic standard.
Traceable from the post consumer goods till the new finished products. GRS certified.
Re:down® by Naturtex® products
The Re:down® by Naturtex® collection makes bedding products circular ! Decoration cushions, pillows, duvets or toppers, all our products are filled with recycled materials
reclaimed from post consumer goods. The very high cleanliness of our down and feathers guarantees hypoallergenic and 100% odor free products. We use sustainable fabrics for the shells : BCI or GOTS certified cotton.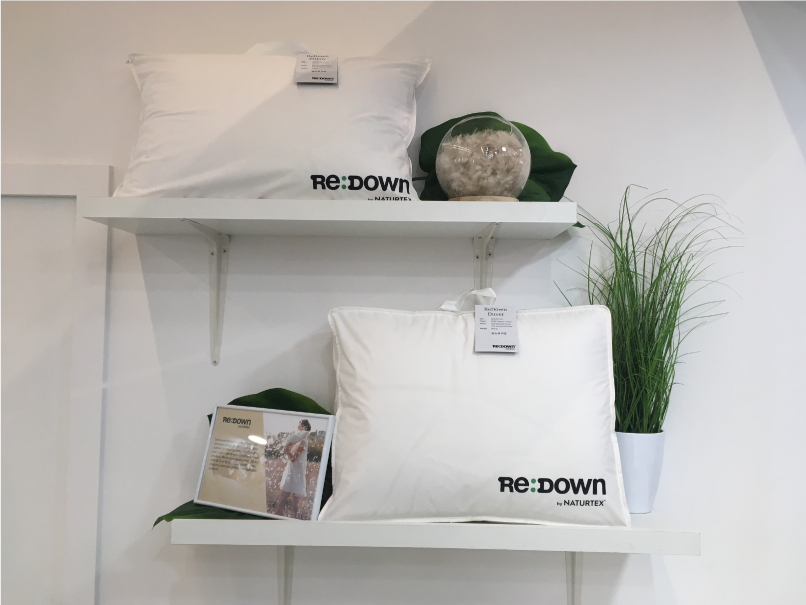 If you have any questions, contact us by filling in the form below!